It's the season to give back and what better way than to donate to PORCH-Durham? Two of our realtors– Laurie Jahnke and Jane Phillips– have thoroughly enjoyed working with the organization for the past two years and want to help foster as much involvement as possible within the community.
Some children, right here in our own community, rely primarily on school lunches for their one full meal a day. When they go home for the weekend, they may not even get that one meal. PORCH-Durham assists the Inter-Faith Food Shuttle in Durham to combat this problem. Specifically, PORCH-Durham collects food each month in support of the Backpack Buddies Program. This program provides more than 440 backpacks of food for each weekend of the school year for children in need within the Durham County Public Schools and the John Avery Boys & Girls Club of Durham. Additional food that is collected but unacceptable for the weekend backpacks is distributed to food pantries and rescue missions within Durham and the surrounding areas.
PORCH- Durham is always looking for donations as well as volunteers and accepts them from individuals, as well as companies and other community organizations. Food donations are collected every 3rd Monday of the month. The next collection date is Monday, December 9th. PLEASE KEEP IN MIND THIS IS THE LAST PICKUP BEFORE BACKPACKS ARE PREPARED FOR THE ENTIRE CHRISTMAS BREAK FOR CHILDREN.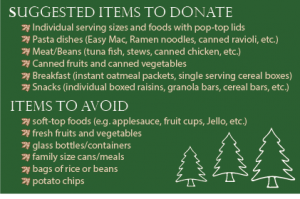 In addition, you may mail in monetary donations to PORCH-Durham – 10 Paradise Place Durham, NC  27705, or submit monetary donations online at http://porchdurham.org/.
PORCH-Durham gives you the opportunity to make a difference in a child's life.  If you have any questions or wish to contribute for the December 9th pickup please contact Laurie Jahnke at lauriejahnke9@gmail.com or Jane Phillips at japgoduke@aol.com. Also, feel free to check out the PORCH-Durham website for more information.
All of us here at Peak, Swirles, and Cavallito properties hope that you and your family have a joyous holiday season!