Local Market Update – January 2022
The 2022 real estate market begins where 2021 left off, in which existing home sales reached their highest level since 2006, with the National Association of REALTORS® reporting sales were up 8.5% compared to the previous year as homebuyers rushed to take advantage of historically low mortgage rates. Home sales would've been even greater were it not for soaring sales prices and a shortage of homes for sale in many markets, forcing a multitude of buyers to temporarily put their home purchase plans on hold.
New Listings in the Triangle region decreased 18.2 percent to 2,923. Under Contract Sales were down 10.5 percent to 3,405. Inventory levels fell 46.4 percent to 1,853 units.
Prices continued to gain traction. The Median Sales Price increased 24.2 percent to $370,000. Days on Market was down 34.8 percent to 15 days. Sellers were encouraged as Months Supply of Inventory was down 44.4 percent to 0.5 months.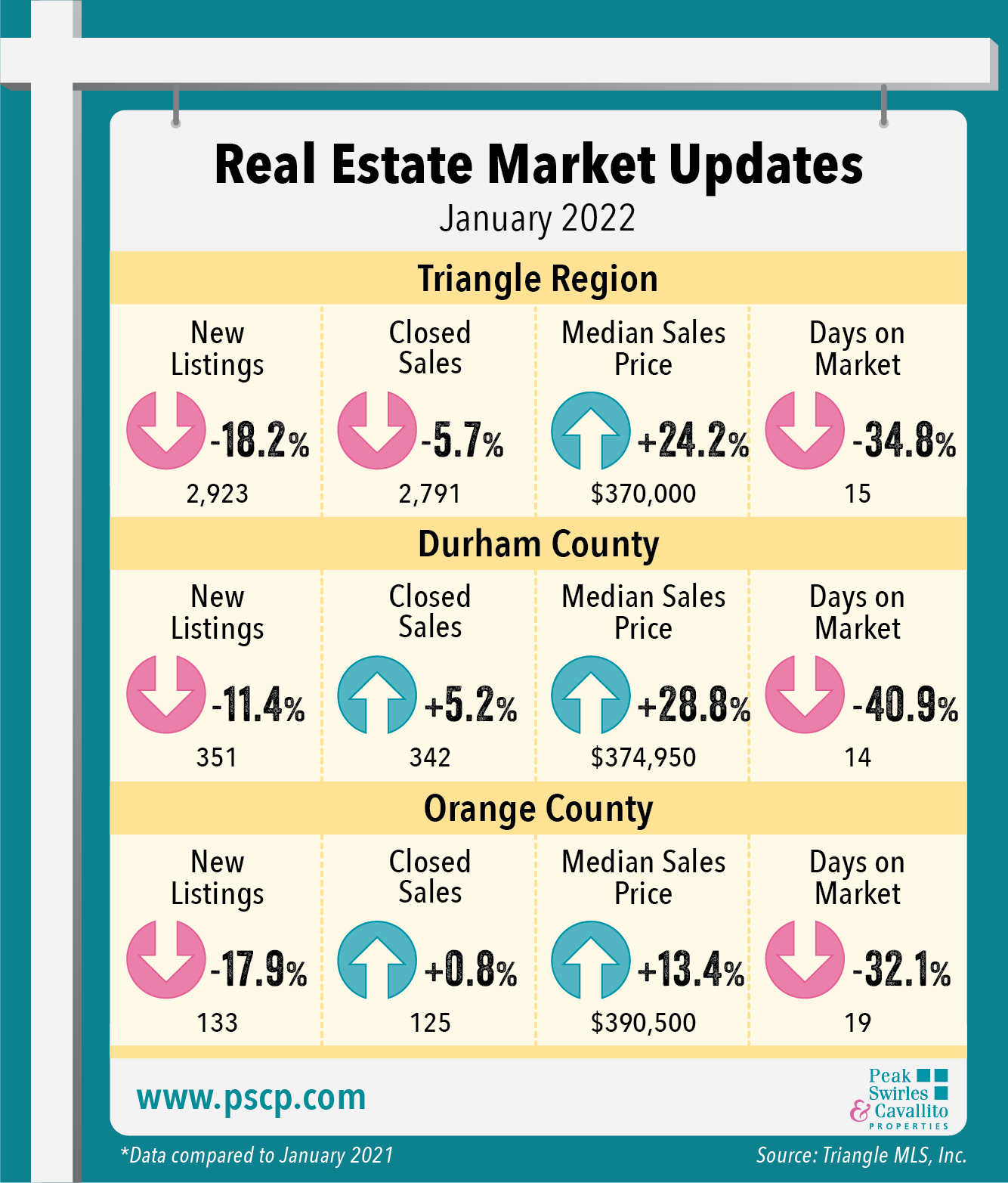 For many buyers, 2022 marks a new opportunity to make their home purchase dreams a reality. But it won't be without its challenges. Inventory of existing homes was at 910,000 at the start of the new year, the lowest level recorded since 1999, according to the National Association of REALTORS®, and competition remains fierce. Affordability continues to decline, as inflation, soaring sales prices, and surging mortgage interest rates reduce purchasing power. The sudden increase in rates and home prices means buyers are paying significantly more per month compared to this time last year, which may cause sales to slow as more buyers become priced out of the market.
Click on the links below for more detailed information about the Real Estate Markets in Durham, Orange & Chatham counties:
Durham County
Orange County & Chapel Hill
Chatham County
For information about how the local market affects your real estate needs, contact any of the real estate experts at Peak Swirles & Cavallito Properties.
*All data from Triangle Multiple Listing Service, Inc. ©2022