Local Market Update – July 2022
The U.S. housing market has continued to cool, as rising mortgage rates and record-high sales prices have stifled affordability, weakening demand and pricing out a multitude of buyers. Nationally, median household income has failed to keep pace with increasing mortgage payments, with the costs of buying a home about 80% more expensive now than they were just three summers ago, according to the National Association of REALTORS® (NAR). As more and more prospective buyers find their home purchase plans delayed, many are turning to the rental market, where competition has intensified due to increased demand.
New Listings in the Triangle region increased 1.0 percent to 4,815. Under Contract Sales were down 14.6 percent to 3,478. Inventory levels rose 68.9 percent to 5,628 units.
Prices continued to gain traction. The Median Sales Price increased 18.3 percent to $420,000. Days on Market was up 33.3 percent to 12 days. Buyers felt empowered as Months Supply of Inventory was up 87.5 percent to 1.5 months.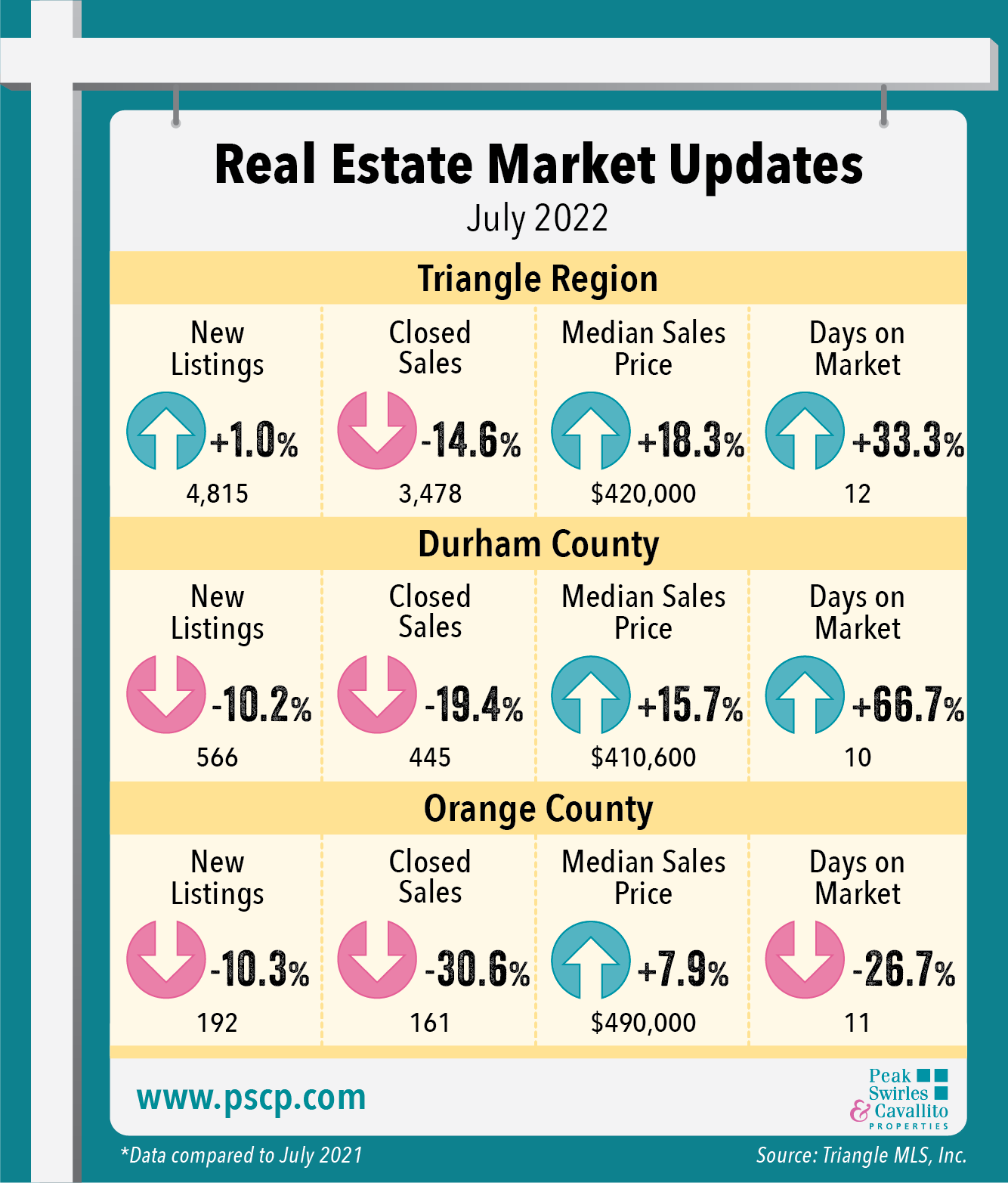 At a time of year when home buying activity is typically very strong, soaring homeownership costs have caused home sales to decline nationwide for the fifth consecutive month, with existing-home sales falling 5.4% month-to-month and 14.2% year-over-year as of last measure, according to NAR. But there is a bright spot. Inventory of existing homes has continued to climb this summer, with 1.26 million homes available at the beginning of July, equivalent to a 3 months' supply. And despite the summer slowdown, homes are still selling quickly, with the typical home staying on market an average of 14 days.
Click on the links below for more detailed information about the Real Estate Markets in Durham, Orange & Chatham counties:
Durham County
Orange County & Chapel Hill
Chatham County
For information about how the local market affects your real estate needs, contact any of the real estate experts at Peak Swirles & Cavallito Properties.
*All data from Triangle Multiple Listing Service, Inc. ©2022