Local Market Update – October 2022
Existing home sales declined nationwide for the eighth consecutive month, falling 1.5% as of last measure, according to the National Association of REALTORS® (NAR), with sales down nearly 24% from the same period last year. Pending home sales also declined, dropping 10.9% month-to-month, exceeding economists' expectations. Stubbornly high inflation and soaring borrowing costs have eroded buyer purchasing power and have caused the market to cool rapidly this year.
New Listings in the Triangle region decreased 25.9 percent to 3,269. Under Contract Sales were down 37.4 percent to 2,693. Inventory levels rose 93.0 percent to 6,749 units.
Prices continued to gain traction. The Median Sales Price increased 8.2 percent to $395,000. Days on Market was up 140.0 percent to 24 days. Buyers felt empowered as Months Supply of Inventory was up 122.2 percent to 2.0 months.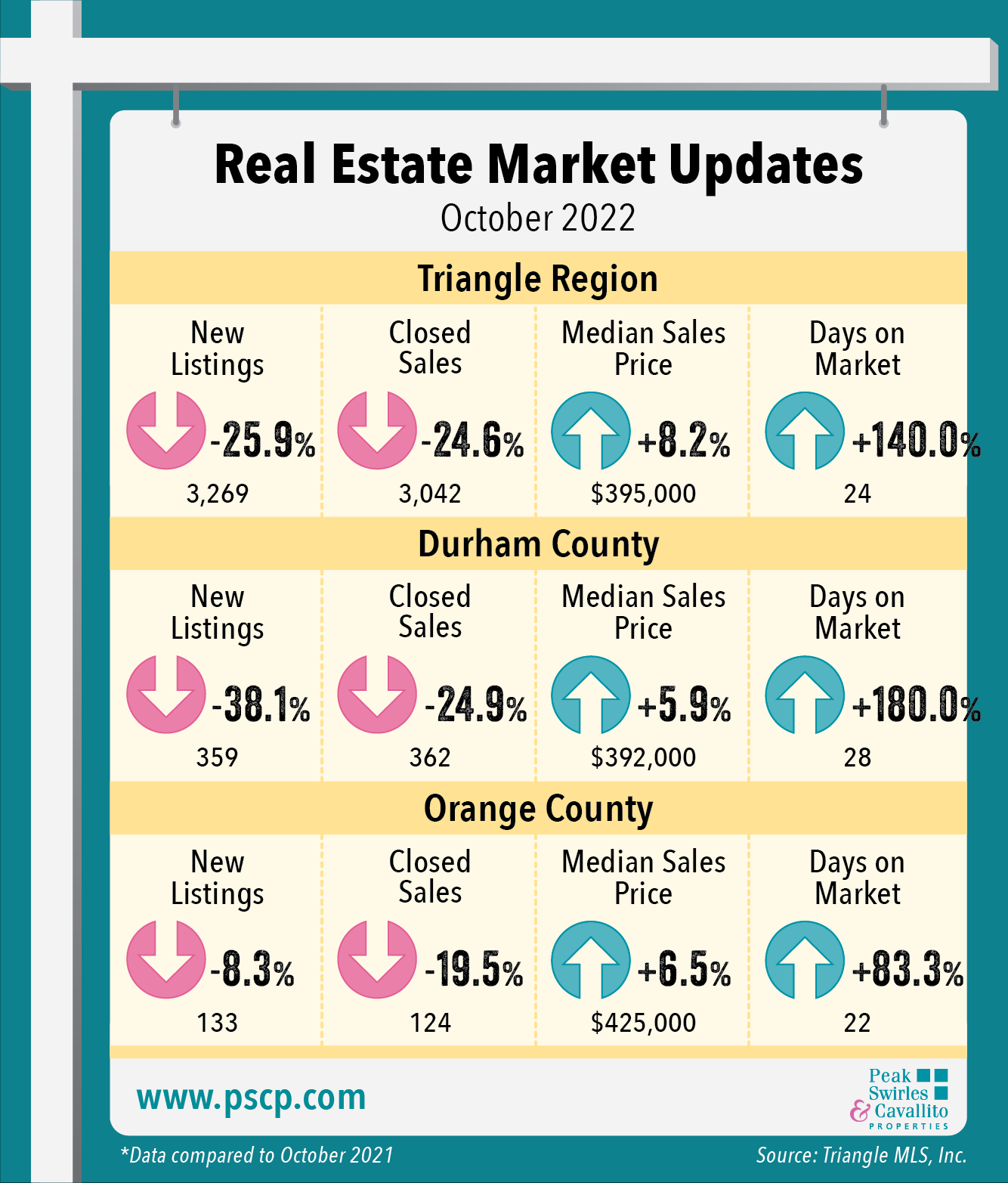 The US housing market is undergoing a major shift, and affordability continues to be an obstacle for buyers and sellers. Mortgage rates have doubled since March, and home prices remain elevated due to a limited supply of homes, although price gains are slowing at a quickening pace. As a result, many homeowners are waiting until market conditions improve to sell their home, while other sellers are increasingly cutting prices and offering concessions to attract a greater number of buyers.
Click on the links below for more detailed information about the Real Estate Markets in Durham, Orange & Chatham counties:
Durham County
Orange County & Chapel Hill
Chatham County
For information about how the local market affects your real estate needs, contact any of the real estate experts at Peak Swirles & Cavallito Properties.
*All data from Triangle Multiple Listing Service, Inc. ©2022