Local Market Update – August 2022
Summer 2022 has been a season of change for the U.S. real estate market. With housing affordability at a 33-year low, existing-home sales have continued to soften nationwide, falling 5.9% month-to-month and 20.9% year-over-year as of last measure, according to the National Association of REALTORS® (NAR). Pending home sales have also continued to decline, while new listings have steadily increased, with unsold inventory reaching 3.3 months' supply at the start of August. The pullback in demand has been particularly hard on homebuilders, causing new-home sales and construction to slow.
New Listings in the Triangle region decreased 2.4 percent to 4,506. Under Contract Sales were down 13.4 percent to 3,691. Inventory levels rose 78.2 percent to 5,997 units.
Prices continued to gain traction. The Median Sales Price increased 15.4 percent to $405,000. Days on Market was up 77.8 percent to 16 days. Buyers felt empowered as Months Supply of Inventory was up 100.0 percent to 1.6 months.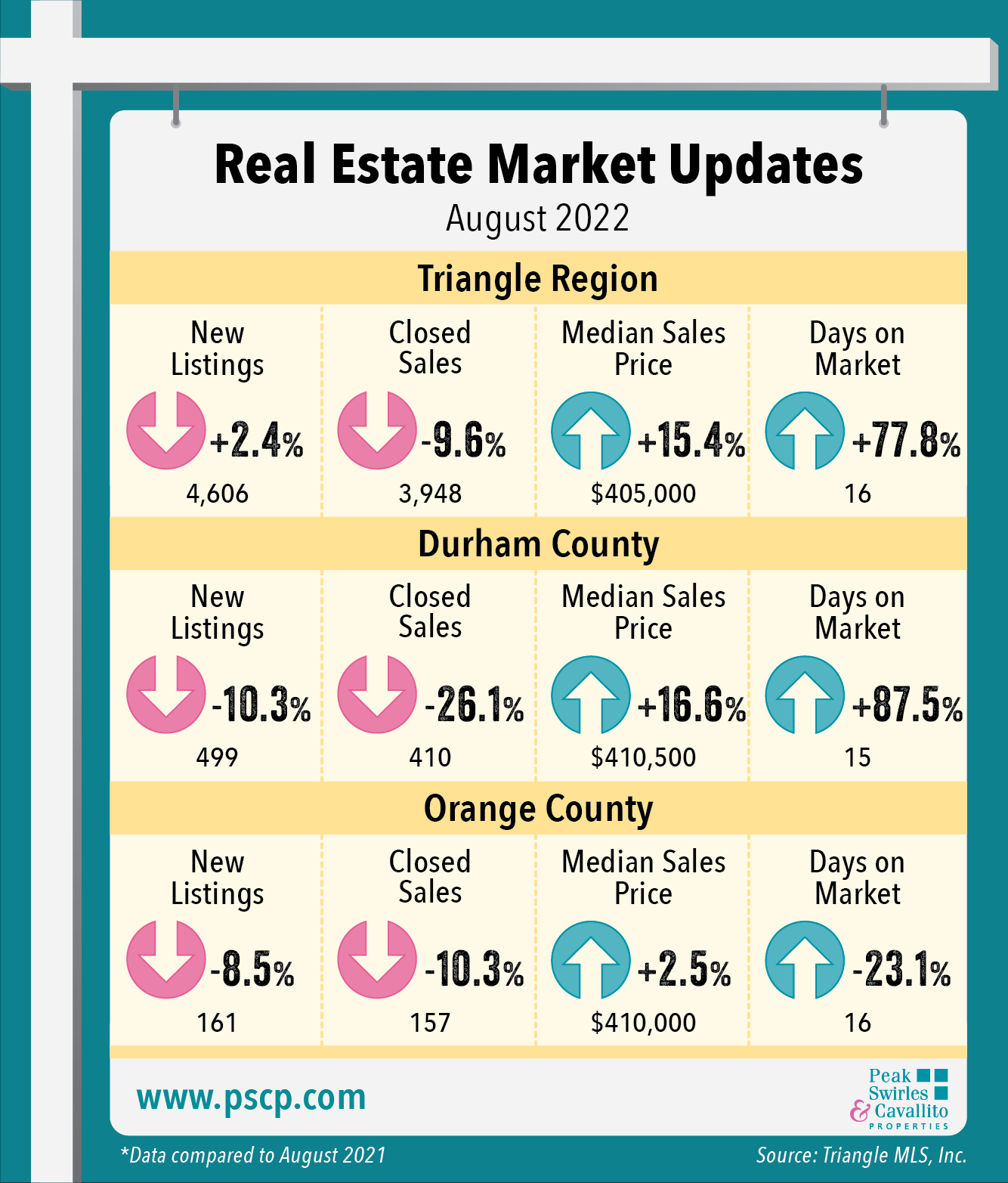 Inflation, higher interest rates, and fears of a potential recession have taken a toll on buyers and sellers this summer, leading many people to stay on the sidelines to see what will happen with the market. But some experts, including NAR Chief Economist Lawrence Yun, believe the worst of inflation may be over. Although sales prices remain up from this time last year, price growth is expected to moderate in the months ahead as the market continues to shift in a more buyer-friendly direction.
Click on the links below for more detailed information about the Real Estate Markets in Durham, Orange & Chatham counties:
Durham County
Orange County & Chapel Hill
Chatham County
For information about how the local market affects your real estate needs, contact any of the real estate experts at Peak Swirles & Cavallito Properties.
*All data from Triangle Multiple Listing Service, Inc. ©2022