Market Overview
Housing markets across the nation are most assuredly active this summer, and buyer competition is manifesting itself into several quick sales above asking price. While the strength of the U.S. economy has helped purchase offers pile up, the Fed recently increased the federal funds rate by 0.25 percent, marking the second rate hike this year and seventh since late 2015. Although the 30- year mortgage rate did not increase, buyers often react by locking in at the current rate ahead of assumed higher rates later. When this happens, accelerated price increases are possible, causing further strain on affordability.
New Listings in the Triangle region decreased 4.2 percent to 4,549. Under Contract Sales were up 8.2 percent to 4,097. Inventory levels fell 8.7 percent to 8,216 units.
Prices continued to gain traction. The Median Sales Price increased 5.8 percent to $275,000. Days on Market was down 13.8 percent to 25 days. Sellers were encouraged as Months Supply of Inventory was down 14.3 percent to 2.4 months.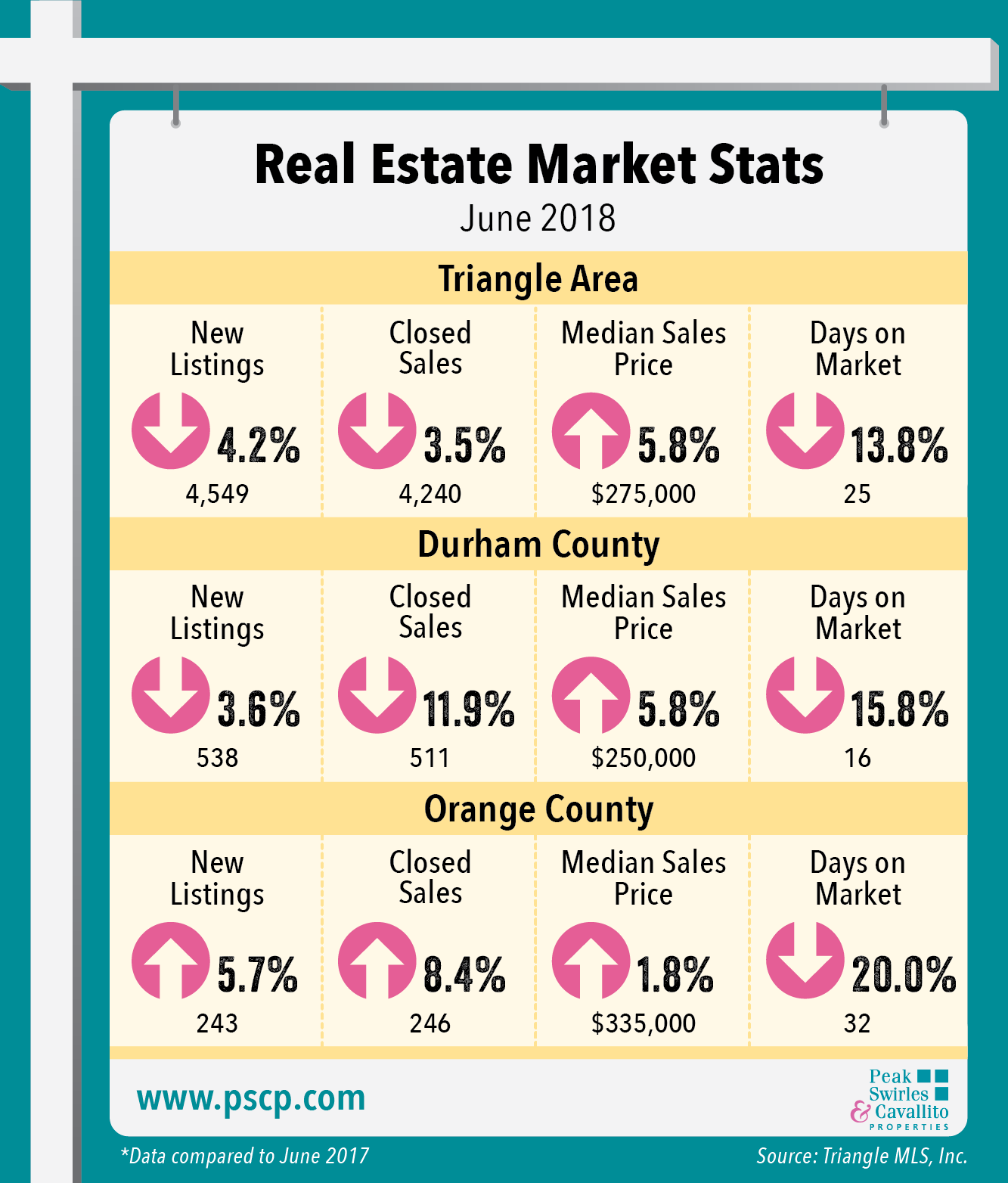 Inventory may be persistently lower in year-over-year comparisons, and home prices are still more likely to rise than not, but sales and new listings may finish the summer on the upswing. The housing supply outlook in several markets is beginning to show an increase in new construction and a move by builders away from overstocked rental units to new developments for sale. These are encouraging signs in an already healthy marketplace.
Click on the links below for more detailed information about the Real Estate Markets in Durham & Orange counties:
For information about how the local market affects your real estate needs, contact any of the real estate experts at Peak Swirles & Cavallito Properties.
*All data from Triangle Multiple Listing Service, Inc. ©2018