Local Market Update – February 2020
As we progressed through February, the actual and expected impacts of COVID-19 continued to grow, with concerns of economic impact reaching the stock market in the last week of the month. As the stock market declined, so did mortgage rates, offering a bad news-good news situation. While short term declines in the stock market can sting, borrowers who lock in today's low rates will benefit significantly in the long term.
New Listings in the Triangle region increased 11.0 percent to 4,101. Under Contract Sales were up 23.3 percent to 4,056. Inventory levels fell 17.8 percent to 6,667 units. Prices continued to gain traction.
The Median Sales Price increased 4.8 percent to $280,000. Days on Market was down 11.4 percent to 39 days. Sellers were encouraged as Months Supply of Inventory was down 25.0 percent to 1.8 months.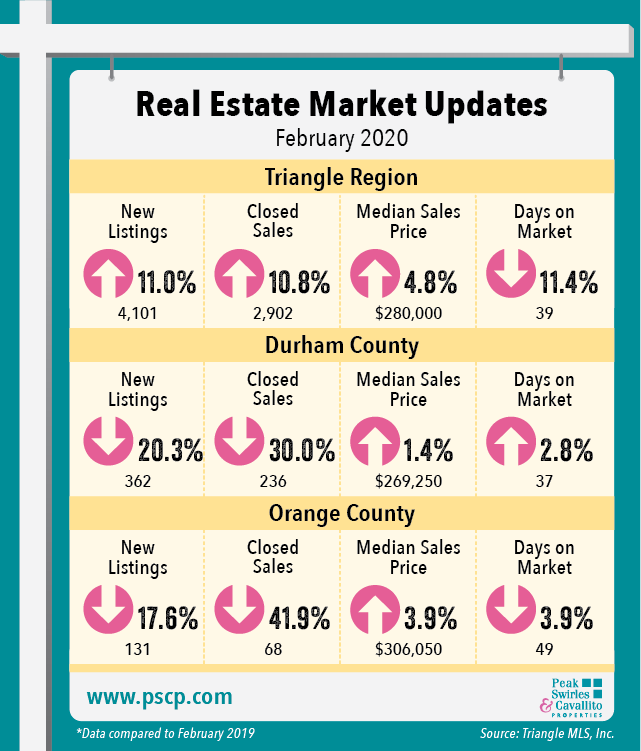 The recently released January ShowingTime Showing Index® saw a 20.2 percent year-over-year increase in showing traffic nationwide. All regions of the country were up double digits from the year before, with the Midwest Region up 15.7 percent and the West Region up 34.1 percent. As showing activity is a leading indicator for future home sales, the 2020 housing market is off to a strong start, though it will be important to watch the spread of COVID-19 and its potential impacts to the overall economy in the coming months.
Click on the links below for more detailed information about the Real Estate Markets in Durham, Orange & Chatham counties:
Durham County
Orange County
Chatham County
For information about how the local market affects your real estate needs, contact any of the real estate experts at Peak Swirles & Cavallito Properties.
*All data from Triangle Multiple Listing Service, Inc. ©2020