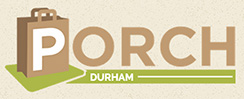 Peak Swirles & Cavallito Properties is proud to support PORCH-Durham in helping school children who are dealing with food insecurities.
PSCP has pledged $1,000 to sponsor a food pantry at Brogden Middle School and will also build two food trees during the upcoming holiday season. All food collected will go to the Backpack Buddies program.
PORCH-Durham provides 496 backpacks for the weekend to those children most in need within nine Durham Public Schools as well as the John Avery Boys & Girls Club of Durham and the Durham Teen Center. The School Pantry Program provides weekend food relief for more than 3,000 students in 1 elementary, 2 middle schools, 4 high schools, Durham Technical Community College and Durham Teen Center.