Local Market Update – March 2021
Normal spring increases in sales activity, coupled with relaxing COVID-19 policies, created a very busy March real estate market as buyer demand continued largely unabated in the face of rising home prices and mortgage rates. Existing home seller and new construction activity continue to remain below levels necessary to bring the market back into balance, pointing to a busy and competitive buyer market in the coming months.
New Listings in the Triangle region decreased 8.7 percent to 4,416. Under Contract Sales were up 18.6 percent to 4,553. Inventory levels fell 68.0 percent to 2,535 units.
Prices continued to gain traction. The Median Sales Price increased 10.8 percent to $317,900. Days on Market was down 52.9 percent to 16 days. Sellers were encouraged as Months Supply of Inventory was down 72.7 percent to 0.6 months.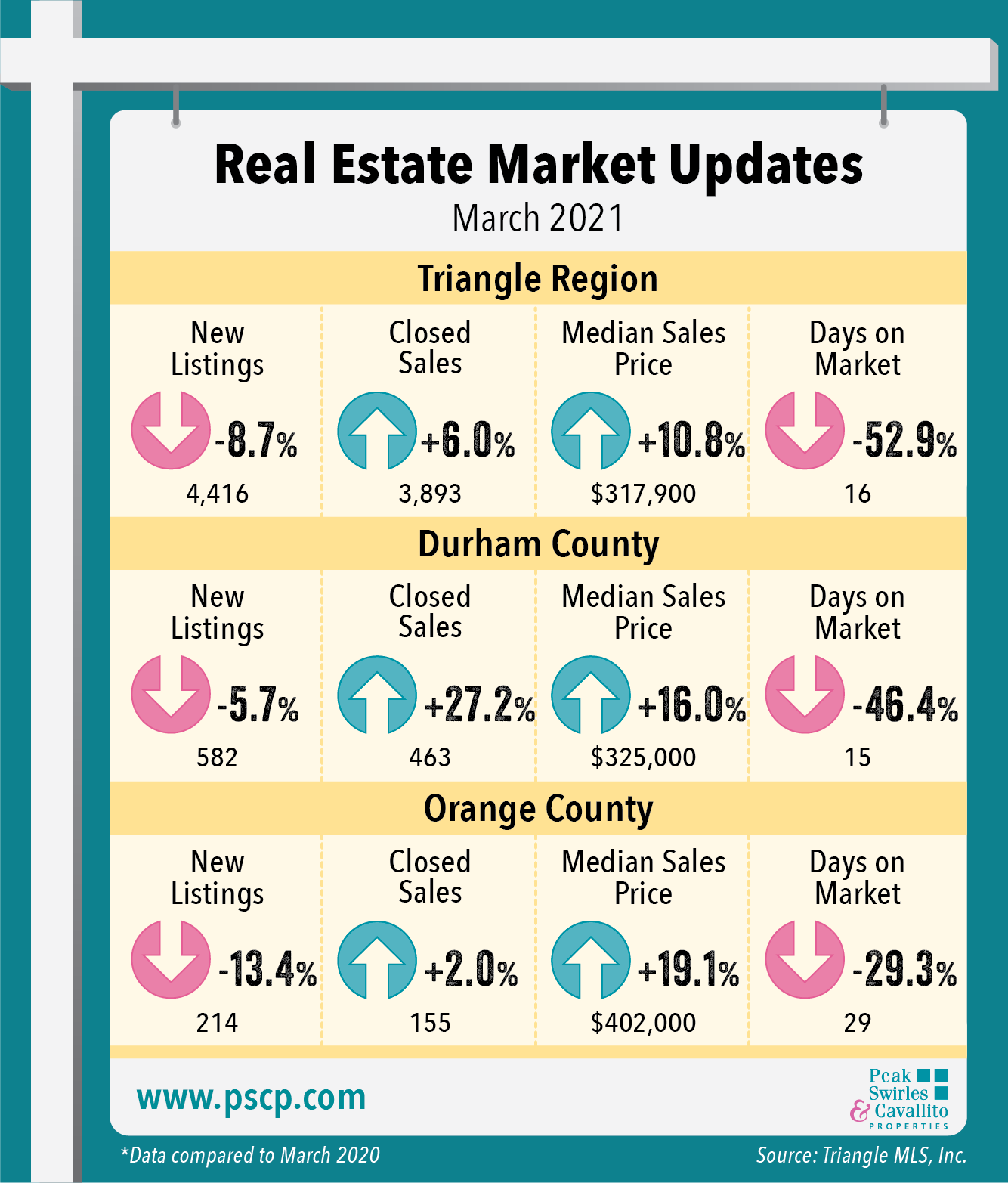 While many homebuilders are working to increase their activity, the cost of lumber and other materials and a backlogged supply chain continue to limit new home construction and have increased costs substantially. New methods of construction, including 3d printed homes, could speed construction and reduce costs in the future, but realistically are several years away from making a measurable impact in the market.
Click on the links below for more detailed information about the Real Estate Markets in Durham, Orange & Chatham counties:
Durham County
Orange County
Chatham County
For information about how the local market affects your real estate needs, contact any of the real estate experts at Peak Swirles & Cavallito Properties.
*All data from Triangle Multiple Listing Service, Inc. ©2021