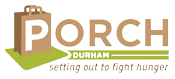 Peak Swirles & Cavallito Properties will proudly continue its support of PORCH-Durham by sponsoring the food pantry at Brogden Middle School for a second year.
The Brogden Middle School pantry began serving approximately 20 families in January 2016, with the number of families increasing throughout the year. Though normally closed during the summer months, Brogden was able to keep the pantry stocked and open June through August, thus providing additional food to families over the summer. The number of families served by the pantry is expected to increase in the 2016-2017 school year.
The School Pantry program through PORCH-Durham currently serves more than 3,000 students at 3 elementary schools, 2 middle schools and 3 high schools. The School Pantry program makes two deliveries a month of both non-perishable items and fresh fruit. Food is distributed weekly to food insecure students and their families.
For more information about the School Pantry program or PORCH-Durham and how to assist or donate, visit https://durham.porchcommunities.org.