Local Market Update – February 2023
In its continued effort to curb inflation, the Federal Reserve raised its benchmark interest rate in February by a quarter-percentage point to 4.50% – 4.75%, its 8th rate hike since March of last year, when the interest rate was nearly zero. Mortgage interest rates have dipped slightly from their peak last fall, leading pending sales to increase 8.1% month-to-month as of last measure, but affordability constraints continue to limit homebuyer activity overall, with existing-home sales declining for the twelfth consecutive month, according to the National Association of Realtors® (NAR).
New Listings in the Triangle region decreased 12.5 percent to 2,980. Under Contract Sales were down 0.4 percent to 3,261. Inventory levels rose 136.4 percent to 4,959 units.
Prices continued to gain traction. The Median Sales Price increased 2.7 percent to $385,000. Days on Market was up 147.1 percent to 42 days. Buyers felt empowered as Months Supply of Inventory was up 220.0 percent to 1.6 months.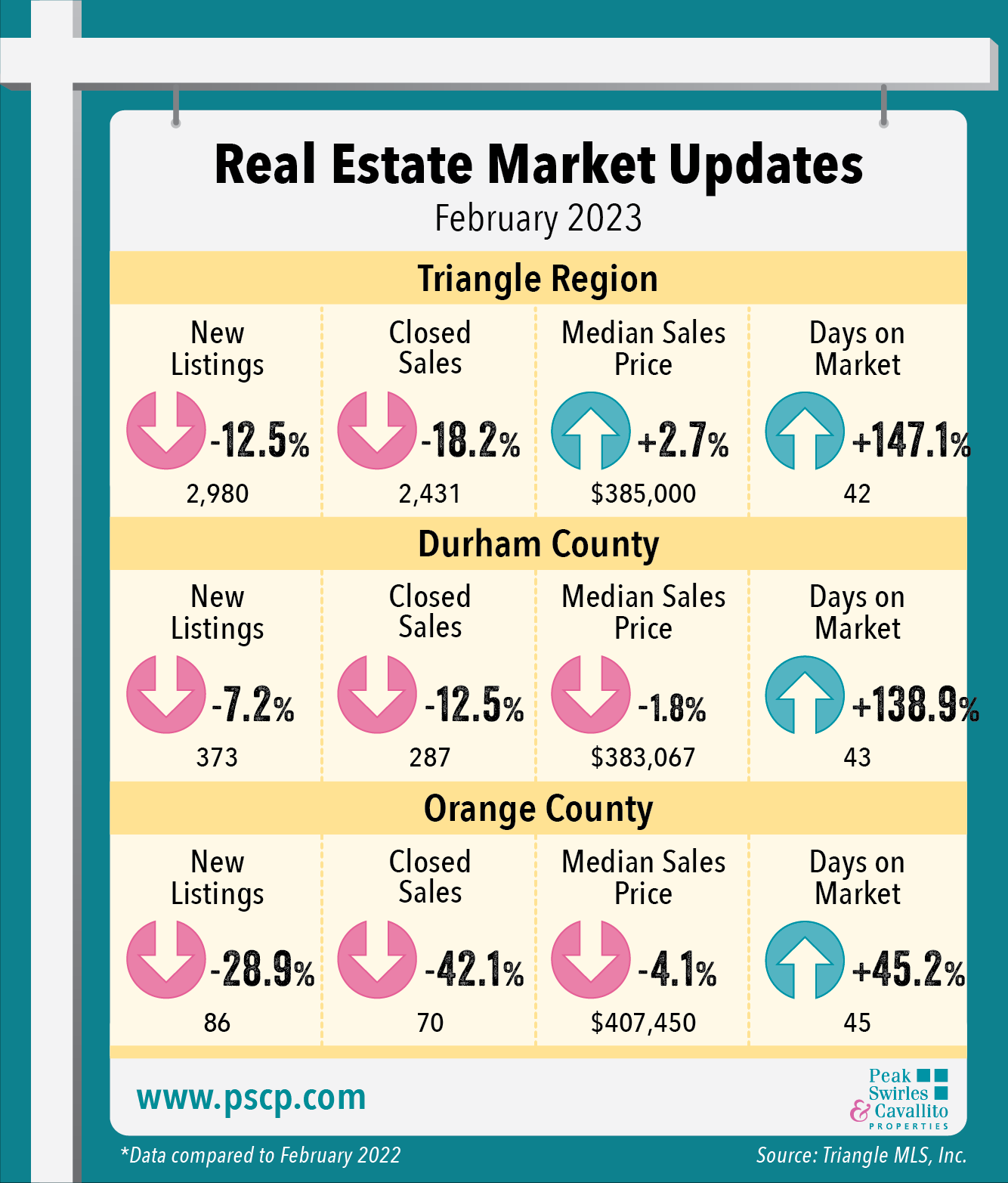 With buyer demand down from peak levels, home price growth has continued to slow nationwide, although prices remain up from a year ago. Sellers have been increasingly cutting prices and offering sales incentives in an attempt to attract buyers, who have continued to struggle with affordability challenges this winter. The slight decline in mortgage rates earlier this year convinced some buyers to come off the sidelines, but with rates ticking up again in recent weeks, buyers are once again pulling back, causing sales activity to remain down heading into spring.
Click on the links below for more detailed information about the Real Estate Markets in Durham, Orange & Chatham counties:
Durham County
Orange County & Chapel Hill
Chatham County
For information about how the local market affects your real estate needs, contact any of the real estate experts at Peak Swirles & Cavallito Properties.
*All data from Triangle Multiple Listing Service, Inc. ©2023