Local Market Update – January 2023
The US housing market began the year in a state of rebalance, with many buyers and sellers remaining cautious while they wait to see where the market is headed. Nationally, pending sales rose 2.5% month-to-month, marking the first increase since May, while sales of existing homes fell 1.5% as of last measure, according to the National Association of Realtors® (NAR). Demand for housing persists, but higher mortgage interest rates have cut into housing affordability, with total home sales down 17.8% last year compared to 2021.
New Listings in the Triangle region decreased 0.8 percent to 2,952. Under Contract Sales were down 7.7 percent to 3,065. Inventory levels rose 152.9 percent to 5,528 units.
Prices continued to gain traction. The Median Sales Price increased 3.9 percent to $385,000. Days on Market was up 186.7 percent to 43 days. Buyers felt empowered as Months Supply of Inventory was up 240.0 percent to 1.7 months.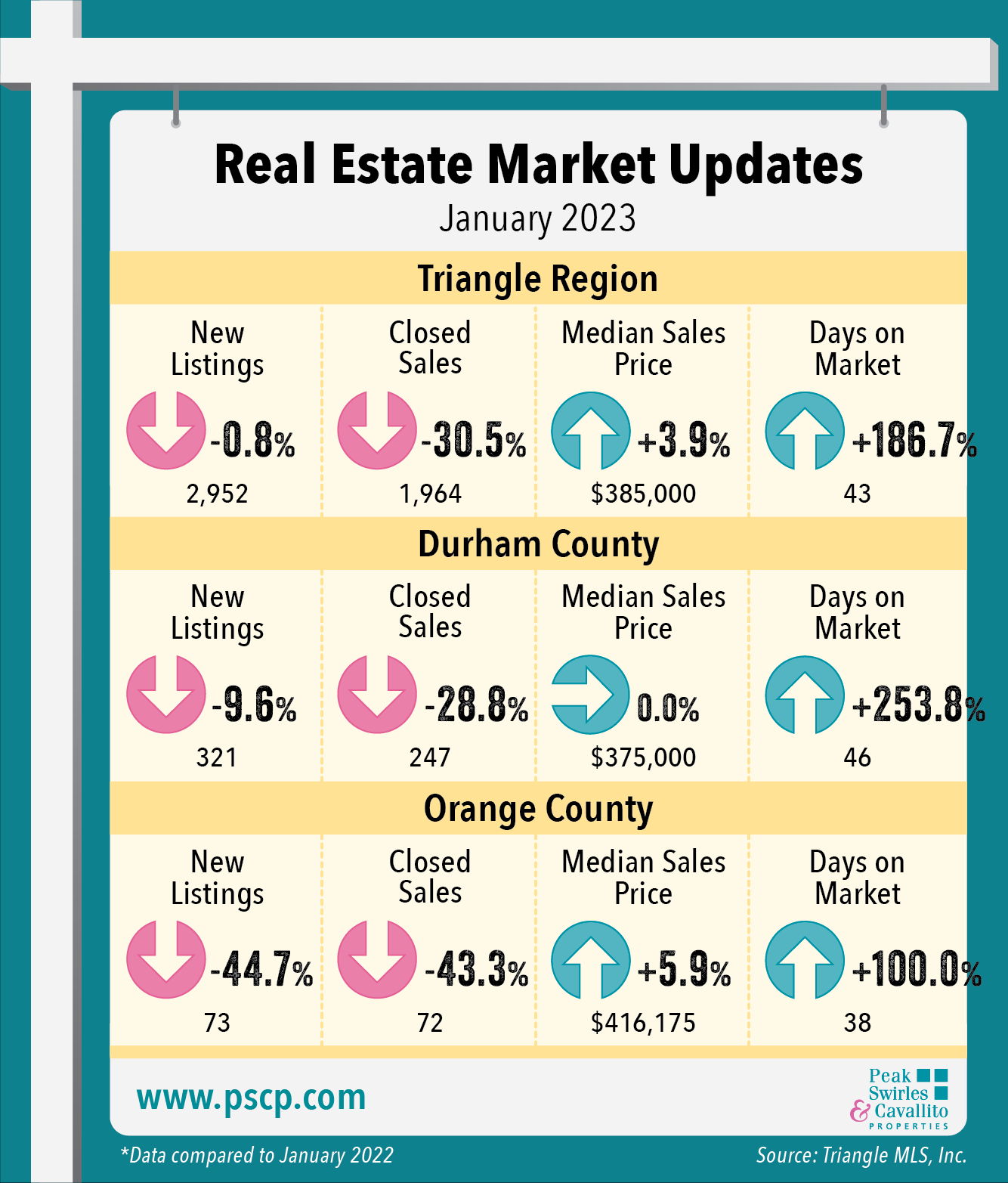 As sales slow, time on market is increasing, with the average home spending 26 days on market as of last measure, according to NAR. Seller concessions have made a comeback, giving buyers more time and negotiating power when shopping for a home. Although home prices remain high, mortgage rates declined steadily throughout January, falling to their lowest level since September, sparking a recent surge in mortgage demand. Lower rates should aid in affordability and may soon lead to an uptick in market activity ahead of the spring selling season.
Click on the links below for more detailed information about the Real Estate Markets in Durham, Orange & Chatham counties:
Durham County
Orange County & Chapel Hill
Chatham County
For information about how the local market affects your real estate needs, contact any of the real estate experts at Peak Swirles & Cavallito Properties.
*All data from Triangle Multiple Listing Service, Inc. ©2023