Local Market Update – March 2022
Nationally, existing home sales recently dropped to a 6-month low, falling 7.2% as buyers struggled to find a home amid rising prices and historic low inventory. Pending sales are also down, declining 4.1% as of last measure, according to the National Association of REALTORS®. Builders are working hard to ramp up production—the U.S. Census Bureau reports housing starts are up 22.3% compared to a year ago—but higher construction costs and increasing sales prices continue to hamper new home sales, despite high demand for additional supply.
New Listings in the Triangle region decreased 3.3 percent to 4,365. Under Contract Sales were down 9.6 percent to 3,987. Inventory levels fell 29.3 percent to 2,093 units.
Prices continued to gain traction. The Median Sales Price increased 24.2 percent to $394,950. Days on Market was down 23.5 percent to 13 days. Sellers were encouraged as Months Supply of Inventory was down 28.6 percent to 0.5 months.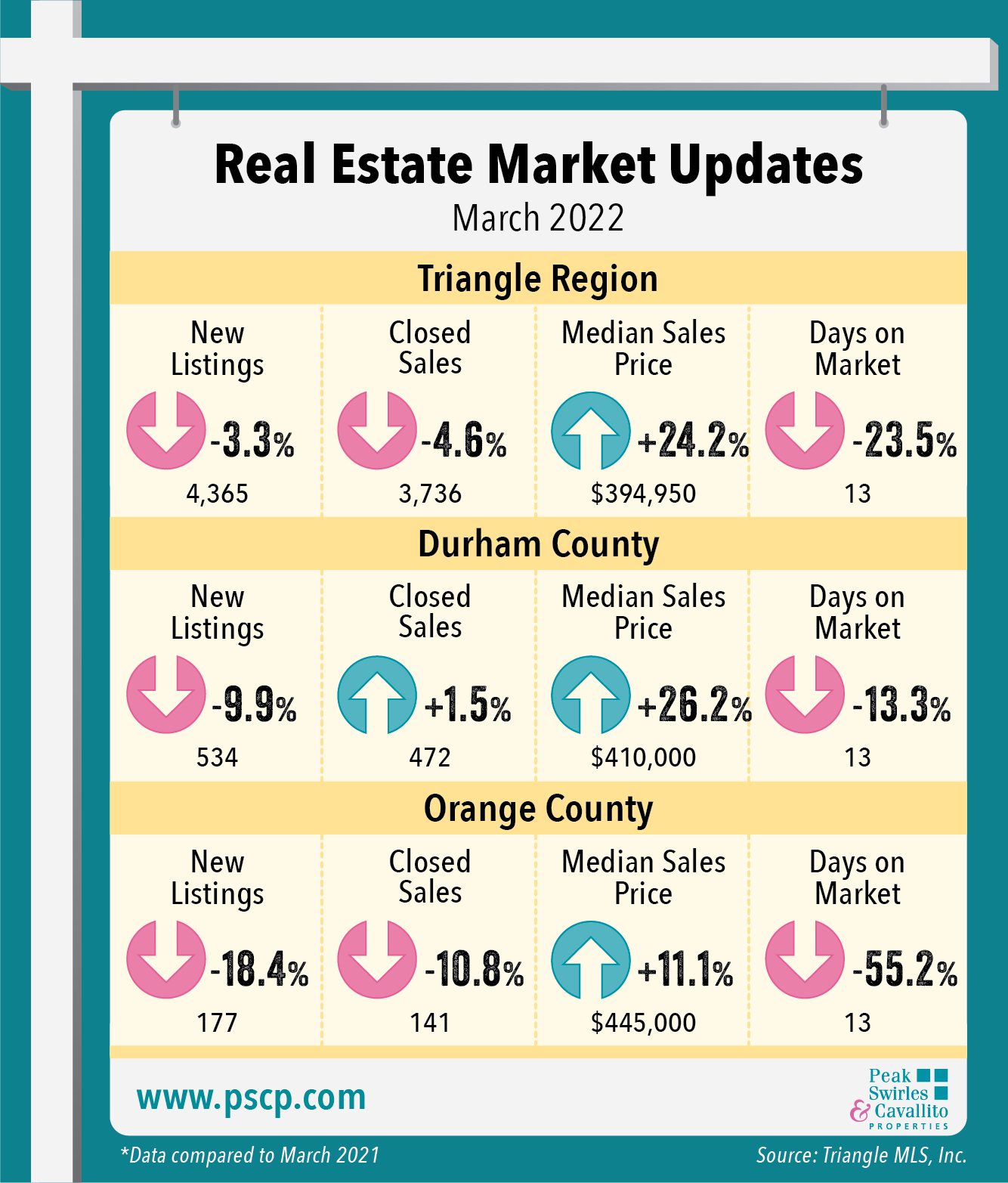 Across the country, consumers are feeling the bite of inflation and surging mortgage interest rates, which recently hit 4.6% in March, according to Freddie Mac, rising 1.4 percent since January and the highest rate in more than 3 years. Monthly payments have increased significantly compared to this time last year, and as housing affordability declines, an increasing number of would-be homebuyers are turning to the rental market, only to face similar challenges as rental prices skyrocket and vacancy rates remain at near-record low.
Click on the links below for more detailed information about the Real Estate Markets in Durham, Orange & Chatham counties:
Durham County
Orange County & Chapel Hill
Chatham County
For information about how the local market affects your real estate needs, contact any of the real estate experts at Peak Swirles & Cavallito Properties.
*All data from Triangle Multiple Listing Service, Inc. ©2022