Local Market Update – June 2022
Rising inflation, soaring home prices, and increased mortgage interest rates have combined to cause a slowdown in the U.S. housing market. To help quell inflation, which reached 8.6% as of last measure in May, the Federal Reserve raised interest rates by three quarters of a percentage point in June, the largest interest rate hike since 1994. Higher prices, coupled with 30-year fixed mortgage rates approaching 6%, have exacerbated affordability challenges and rapidly cooled demand, with home sales and mortgage applications falling sharply from a year ago.
New Listings in the Triangle region increased 13.6 percent to 5,368. Under Contract Sales were down 7.1 percent to 3,842. Inventory levels rose 58.7 percent to 4,600 units.
Prices continued to gain traction. The Median Sales Price increased 17.8 percent to $421,757. Days on Market was down 10.0 percent to 9 days. Buyers felt empowered as Months Supply of Inventory was up 71.4 percent to 1.2 months.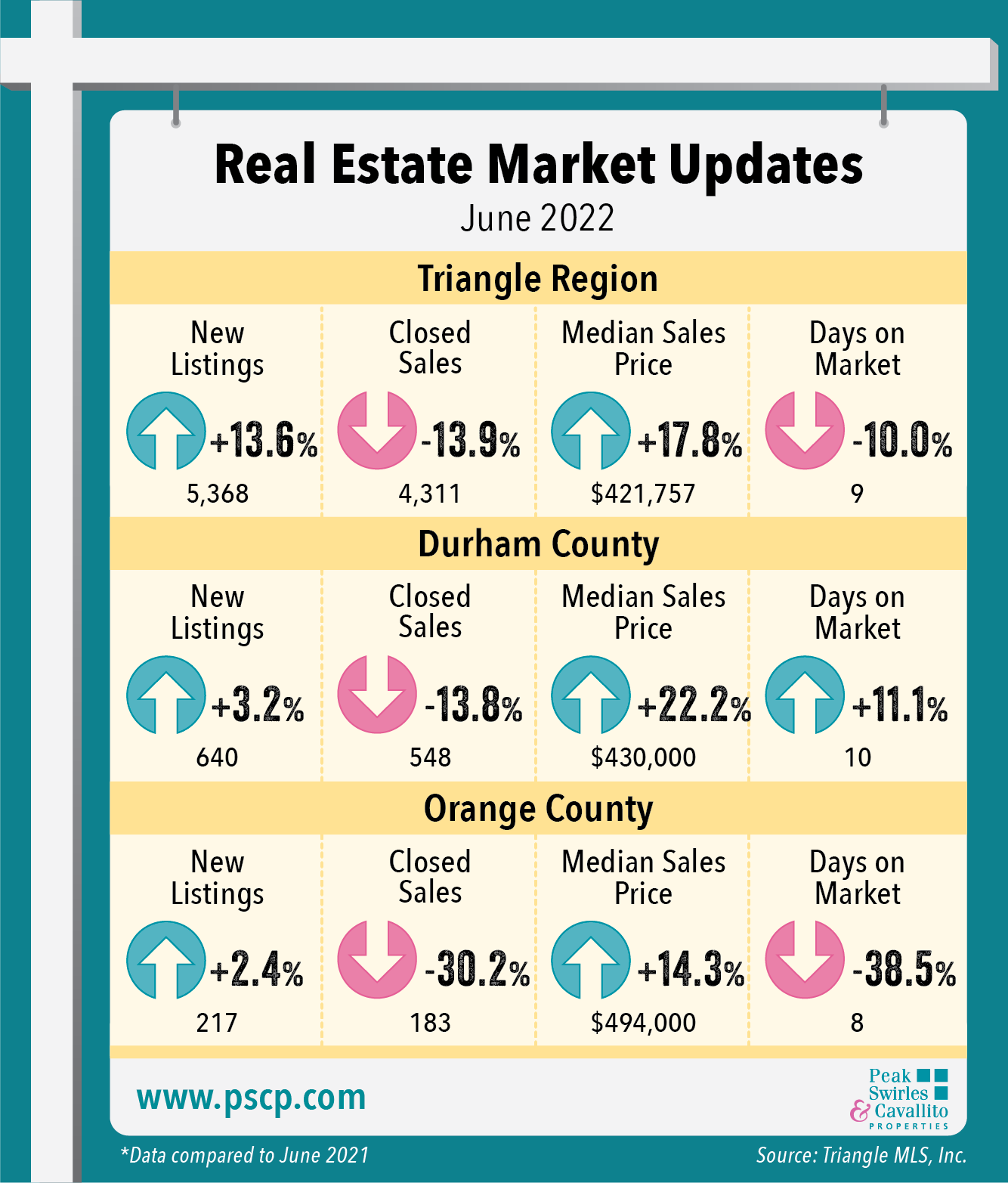 With monthly mortgage payments up more than 50% compared to this time last year, the rising costs of homeownership have sidelined many prospective buyers. Nationally, the median sales price of existing homes recently exceeded $400,000 for the first time ever, a 15% increase from the same period a year ago, according to the National Association of REALTORS®. As existing home sales continue to soften nationwide, housing supply is slowly improving, with inventory up for the second straight month. In time, price growth is expected to moderate as supply grows; for now, however, inventory remains low, and buyers are feeling the squeeze of higher prices all around.
Click on the links below for more detailed information about the Real Estate Markets in Durham, Orange & Chatham counties:
Durham County
Orange County & Chapel Hill
Chatham County
For information about how the local market affects your real estate needs, contact any of the real estate experts at Peak Swirles & Cavallito Properties.
*All data from Triangle Multiple Listing Service, Inc. ©2022