Local Market Update – April 2023
U.S. existing-home sales declined 2.4 percent month-over-month as of last measure, according to the National Association of REALTORS® (NAR), reversing February's sales gain of 14.5%. Fluctuations in mortgage interest rates have caused buyers to pullback, with pending sales dropping 5.2% month over-month. Meanwhile, the median existing-home sales price declined for the second month in a row, falling 0.9% nationally from the same time last year, the largest year-over-year decline since January 2012, according to NAR.
New Listings in the Triangle region decreased 22.7 percent to 3,731. Under Contract Sales were down 7.2 percent to 3,650. Inventory levels rose 51.2 percent to 4,722 units.
Prices were a tad soft. The Median Sales Price decreased 3.6 percent to $400,000. Days on Market was up 170.0 percent to 27 days. Buyers felt empowered as Months Supply of Inventory was up 87.5 percent to 1.5 months.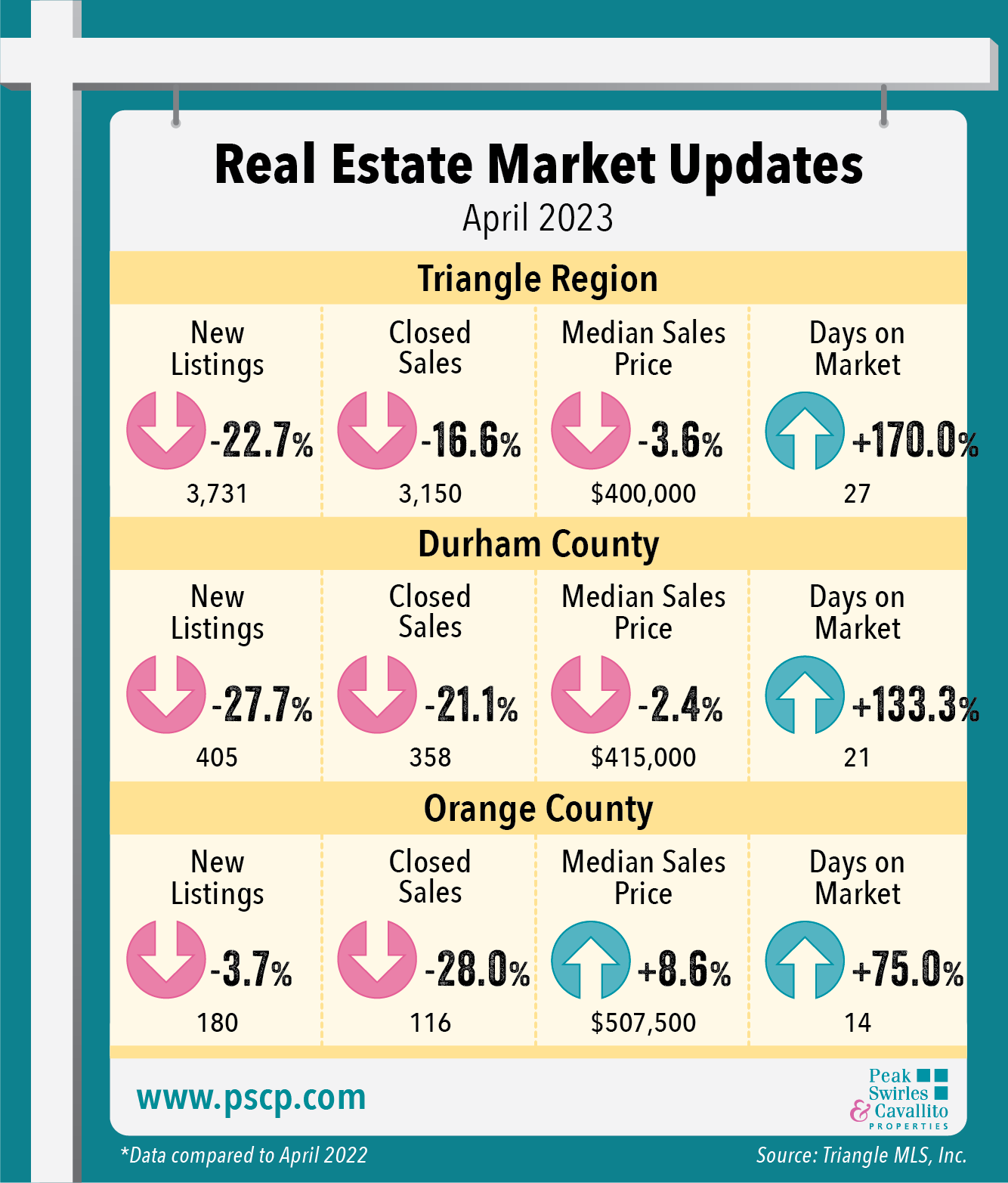 Housing inventory remains tight nationwide, with only 980,000 units available for sale heading into April, a 5.4% increase from one year earlier, although the number of homes for sale is down compared to the same period in 2019, prior to the pandemic. The lack of existing inventory continues to impact home sales, and with only 2.6 months' supply of homes at last measure, competition for available properties remains strong, especially in certain price categories, with multiple offers occurring on about a third of properties, according to NAR.
Click on the links below for more detailed information about the Real Estate Markets in Durham, Orange & Chatham counties:
Durham County
Orange County & Chapel Hill
Chatham County
For information about how the local market affects your real estate needs, contact any of the real estate experts at Peak Swirles & Cavallito Properties.
*All data from Triangle Multiple Listing Service, Inc. ©2023