Local Market Update – May 2023
Existing-home sales slid for the second consecutive month, falling 3.4% nationwide as of last measure, according to the National Association of REALTORS® (NAR), as higher interest rates continue to impact buyer affordability. Sales are down 23% compared to the same period a year ago, while contract signings dropped 20.3% year-over-year. With sales cooling, buyers in some parts of the country have found relief in the form of declining sales prices, which are down 1.7% year-over-year nationally, although more affordable markets continue to see price gains.
New Listings in the Triangle region decreased 22.1 percent to 3,962. Under Contract Sales were down 8.1 percent to 3,715. Inventory levels rose 25.2 percent to 4,807 units.
Prices were a tad soft. The Median Sales Price decreased 2.4 percent to $410,000. Days on Market was up 175.0 percent to 22 days. Buyers felt empowered as Months Supply of Inventory was up 60.0 percent to 1.6 months.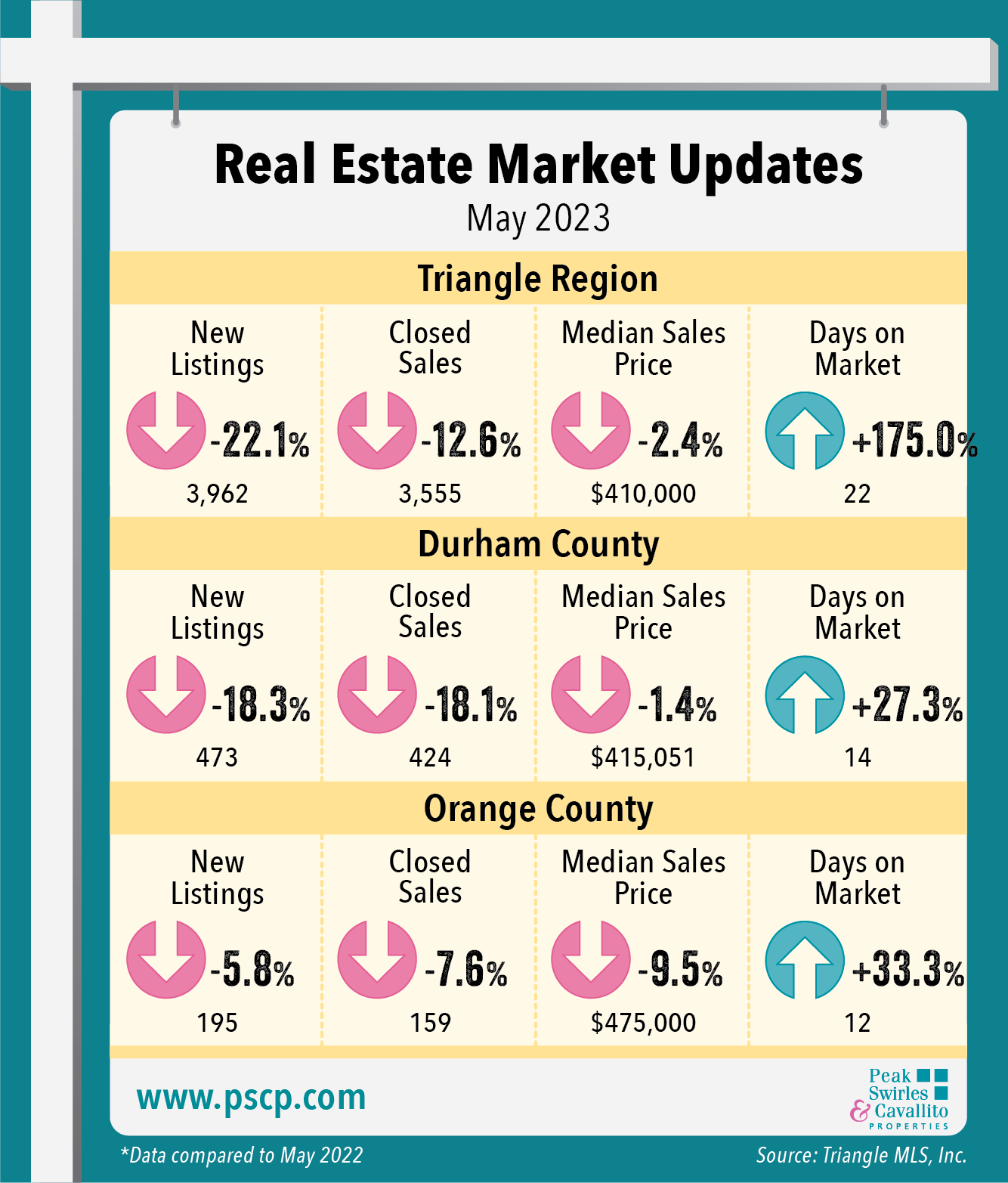 While fluctuating interest rates have pushed some buyers to the sidelines, a shortage of inventory is also to blame for lower-than-average home sales this time of year, as current homeowners, many of whom locked in mortgage rates several percentage points below today's current rates, are delaying the decision to sell until market conditions improve. With only 2.9 months' supply heading into May, available homes are moving fast, with the typical home spending just over three weeks on the market, according to NAR.
Click on the links below for more detailed information about the Real Estate Markets in Durham, Orange & Chatham counties:
Durham County
Orange County & Chapel Hill
Chatham County
For information about how the local market affects your real estate needs, contact any of the real estate experts at Peak Swirles & Cavallito Properties.
*All data from Triangle Multiple Listing Service, Inc. ©2023