The Fed Holds Interest Rates Steady; Local Inventory Increases
Despite a strong U.S. economy, historically low unemployment and steady wage growth, home sales began to slow across the nation late last year. Blame was given to a combination of high prices and a steady stream of interest rate hikes by the Federal Reserve. This month, the Fed responded to the growing affordability conundrum. In a move described as a patient approach to further rate changes, the Fed did not increase rates during January 2019.
New Listings in the Triangle region increased 10.3 percent to 3,783. Under Contract Sales were up 15.8 percent to 3,315. Inventory levels rose 3.9 percent to 7,631 units. Prices continued to gain traction. The Median Sales Price increased 3.9 percent to $259,800. Days on Market remained flat at 40 days. Buyers felt empowered as Months Supply of Inventory was up 4.5 percent to 2.3 months.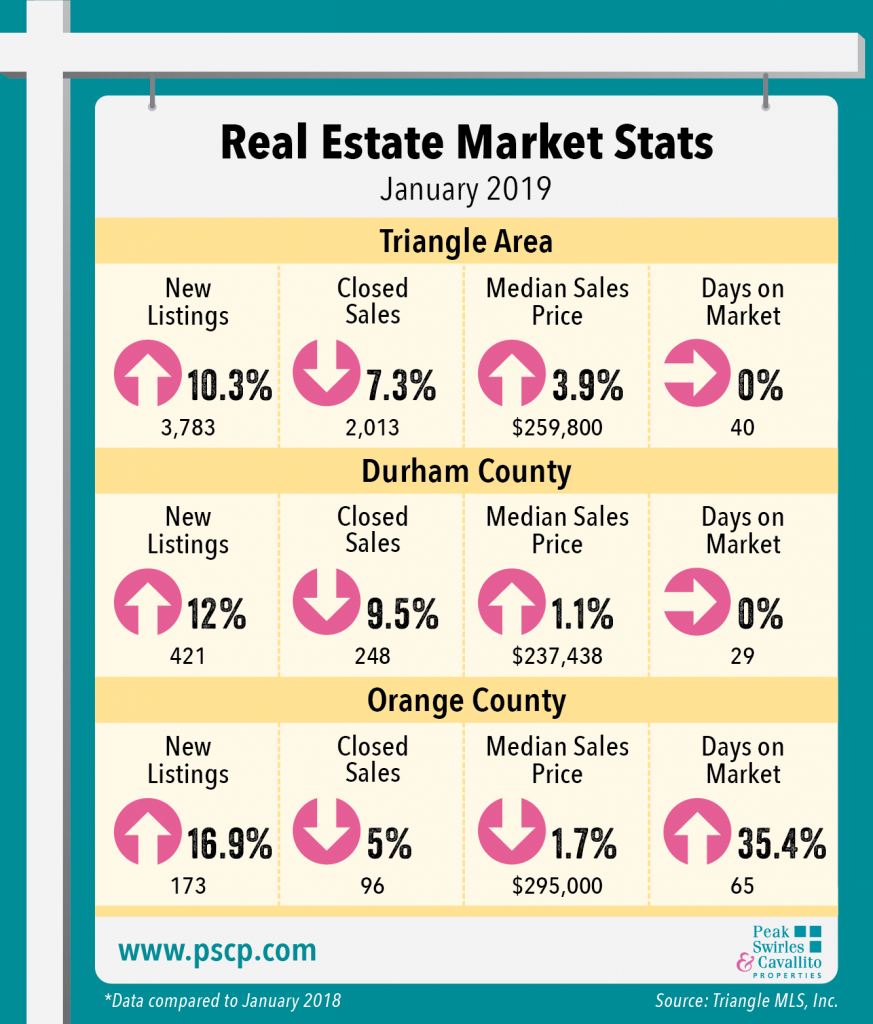 While the home affordability topic will continue to set the tone for the 2019 housing market, early signs point to an improving inventory situation, including in several markets that are beginning to show regular year-over-year percentage increases. As motivated sellers attempt to get a jump on annual goals, many new listings enter the market immediately after the turn of a calendar year. If home price appreciation falls more in line with wage growth, and rates can hold firm, consumer confidence and affordability are likely to improve.
Click on the links below for more detailed information about the Real Estate Markets in Durham, Orange & Chatham counties:
Durham County
Orange County
Chatham County
For information about how the local market affects your real estate needs, contact any of the real estate experts at Peak Swirles & Cavallito Properties.
*All data from Triangle Multiple Listing Service, Inc. ©2019