Local Market Update – July 2021
The White House recently announced additional measures to help struggling homeowners avoid foreclosure as they exit forbearance, including loan modifications and payment reductions. Borrowers with federally backed mortgages can lock in lower interest rates and extend the length of their mortgages. For borrowers who can't resume their monthly mortgage, HUD will offer lenders the ability to provide all eligible borrowers with a 25% principal and interest reduction.
New Listings in the Triangle region decreased 4.8 percent to 4,715. Under Contract Sales were down 7.0 percent to 4,199. Inventory levels fell 53.2 percent to 2,981 units.
Prices continued to gain traction. The Median Sales Price increased 18.4 percent to $355,000. Days on Market was down 66.7 percent to 9 days. Sellers were encouraged as Months Supply of Inventory was down 58.8 percent to 0.7 months.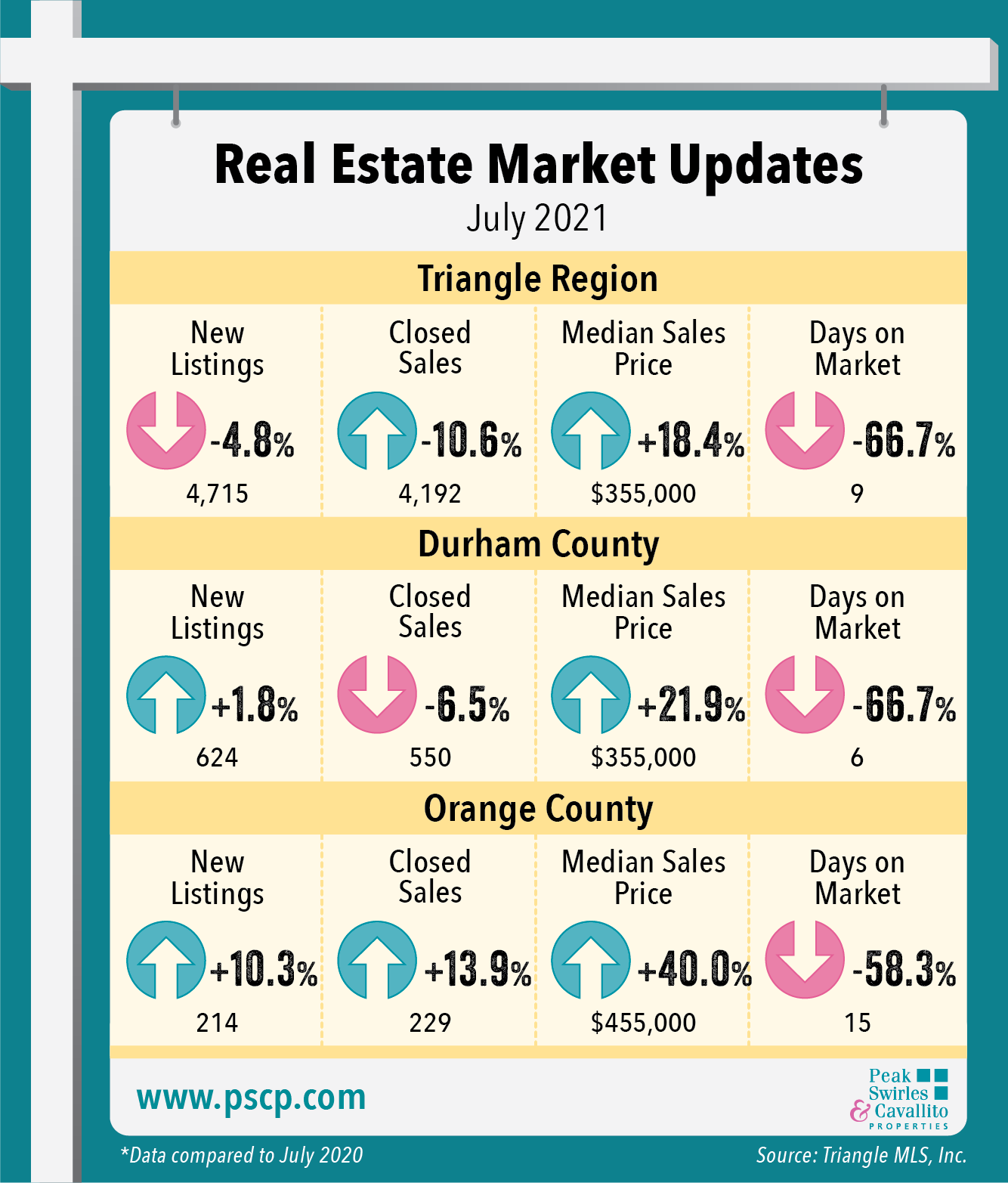 The National Association of REALTORS® reported inventory of homes for sale nationwide rose slightly in June as more sellers list their homes, hoping to take advantage of record-high sales prices across the country while providing a much-needed boost of supply to America's epic housing shortage. This is encouraging news for home buyers, who have struggled with a lack of supply and rocketing sales prices during the pandemic. Even with renewed home seller interest, inventory overall remains 18.8% lower than a year ago, according to NAR.
Click on the links below for more detailed information about the Real Estate Markets in Durham, Orange & Chatham counties:
Durham County
Orange County
Chatham County
For information about how the local market affects your real estate needs, contact any of the real estate experts at Peak Swirles & Cavallito Properties.
*All data from Triangle Multiple Listing Service, Inc. ©2021