Local Market Update – August 2021
The booming U.S. housing market has spilled over to the rental market, which has seen demand for apartment and single-family rentals skyrocket this year, as high sales prices and an inadequate supply of available housing have forced many prospective buyers to rent for the foreseeable future. Increased demand for housing, along with an improving economy, has competition for rental units soaring, and landlords are taking note, with the national median rent increasing 11.4% in 2021 so far, according to Apartment List.
New Listings in the Triangle region increased 1.5 percent to 4,542. Under Contract Sales were down 5.5 percent to 4,427. Inventory levels fell 48.1 percent to 2,978 units.
Prices continued to gain traction. The Median Sales Price increased 15.2 percent to $351,000. Days on Market was down 62.5 percent to 9 days. Sellers were encouraged as Months Supply of Inventory was down 53.3 percent to 0.7 months.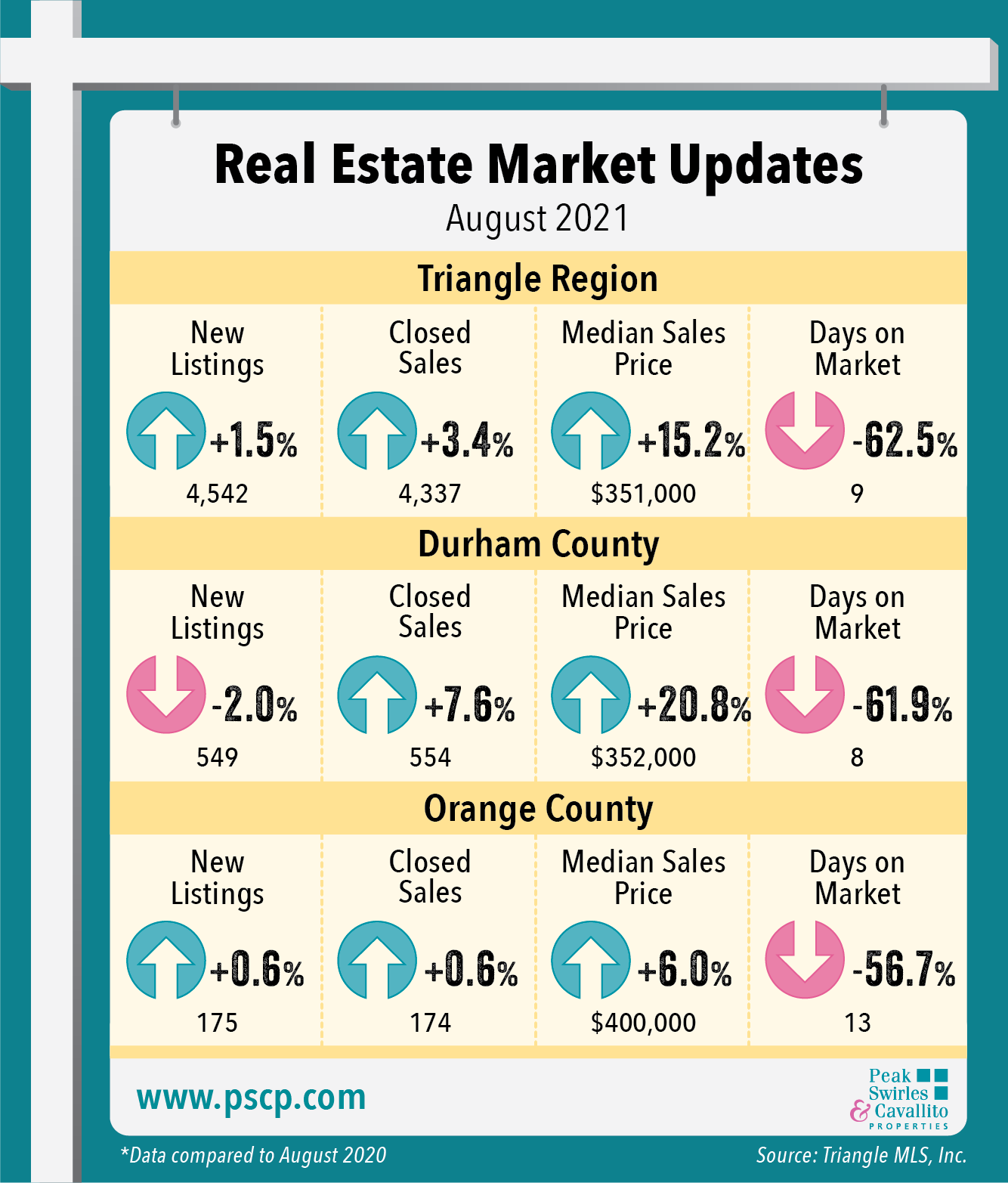 In new construction, home builders continue to struggle to meet buyer demand, as housing starts nationwide dropped 7% last month, according to the Commerce Department. Single-family home construction declined 4.5%, and multi-family home construction, which includes condos and apartment buildings, was also down, falling by 13%. Labor shortages, rising material costs, and supply-chain setbacks continue to challenge builders, with some projects temporarily paused due to availability and cost of materials.
Click on the links below for more detailed information about the Real Estate Markets in Durham, Orange & Chatham counties:
Durham County
Orange County
Chatham County
For information about how the local market affects your real estate needs, contact any of the real estate experts at Peak Swirles & Cavallito Properties.
*All data from Triangle Multiple Listing Service, Inc. ©2021