Local Market Update – April 2020
Uncertainties in the market surrounding the coronavirus have presented a number of challenges within the real estate industry – an industry that has traditionally relied heavily on personal contact and opening ones' homes up to the public. Now, with fears of the spreading virus, shelter-in-place orders, and restrictions on showing homes, real estate agents have had to quickly adapt to conducting business virtually….from virtual tours and virtual open houses to online transaction management with digital signing capabilities. Learn how PSCP is connecting with buyers and sellers to provide virtual real estate services in the face of these challenges.
With tight social distancing measures and restrictions in place, real estate slowed significantly in April but did not come to a halt. Durham, Orange and Chatham Counties combined for 759 new listings and 774 closed transactions. New Listings in the Triangle region decreased 23.6 percent to 3,735. Under Contract Sales were down 15.3 percent to 3,481. Inventory levels fell 14.7 percent to 7,296 units.
Prices continued to gain traction. The Median Sales Price increased 3.6 percent to $290,000. Days on Market was down 16.1 percent to 26 days. Sellers were encouraged as Months Supply of Inventory was down 19.2 percent to 2.1 months.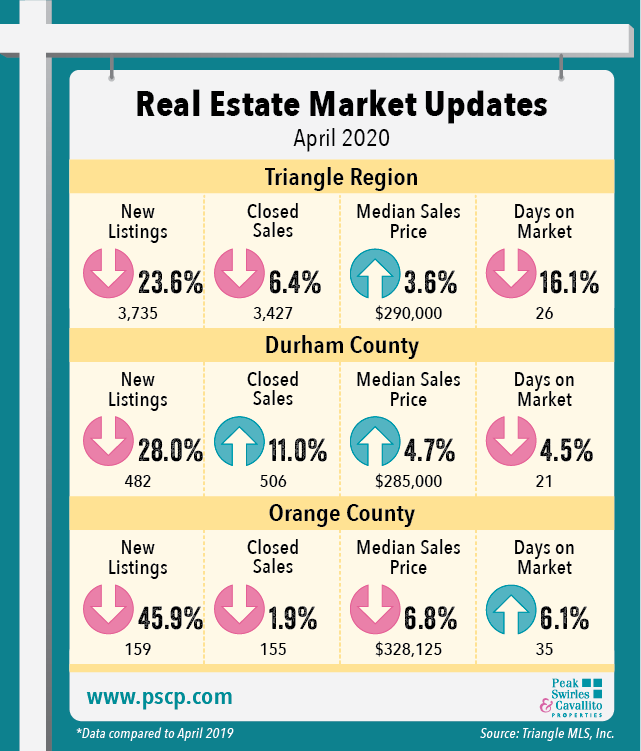 While the stock market recovered significantly in March, the effects of COVID-19 to the economy continue to build. In just the last four weeks, more than 20 million people filed initial unemployment claims according to the United States Department of Labor, fueled by stay at home orders and a slowdown of economic activity across the country. Added to the unemployment claims from March, more than 30 million people have become unemployed since COVID-19 has become widespread in the U.S. As effect of COVID-19 continues to vary widely across the country, it is expected that social distancing, higher unemployment, and lower overall economic activity is likely to continue to constrain real estate activity in the near term. On a positive note, a recent analysis by Moody's Analytics ranked Durham as one of the top US Metros capable of strong recovery post-coronavirus.
Click on the links below for more detailed information about the Real Estate Markets in Durham, Orange & Chatham counties:
Durham County
Orange County
Chatham County
For information about how the local market affects your real estate needs, contact any of the real estate experts at Peak Swirles & Cavallito Properties.
*All data from Triangle Multiple Listing Service, Inc. ©2020