Local Market Update – July 2019
In July, the U.S. economic expansion that began in June 2009 became the longest in the nation's history, marking 121 straight months of gross domestic product growth and surpassing the 120-month expansion from 1991 to 2001. The average rate of growth during this expansion has been a milder 2.3 percent per year compared to 3.6 percent during the 1990s. Although the economy should continue to perform well for the rest of 2019, most economists see a mild recession on the horizon.
New Listings in the Triangle region increased 4.1 percent to 4,408. Under Contract Sales were up 7.9 percent to 3,944. Inventory levels fell 6.5 percent to 8,438 units. Prices continued to gain traction.
The Median Sales Price increased 3.7 percent to $280,000. Days on Market was up 4.0 percent to 26 days. Sellers were encouraged as Months Supply of Inventory was down 7.4 percent to 2.5 months.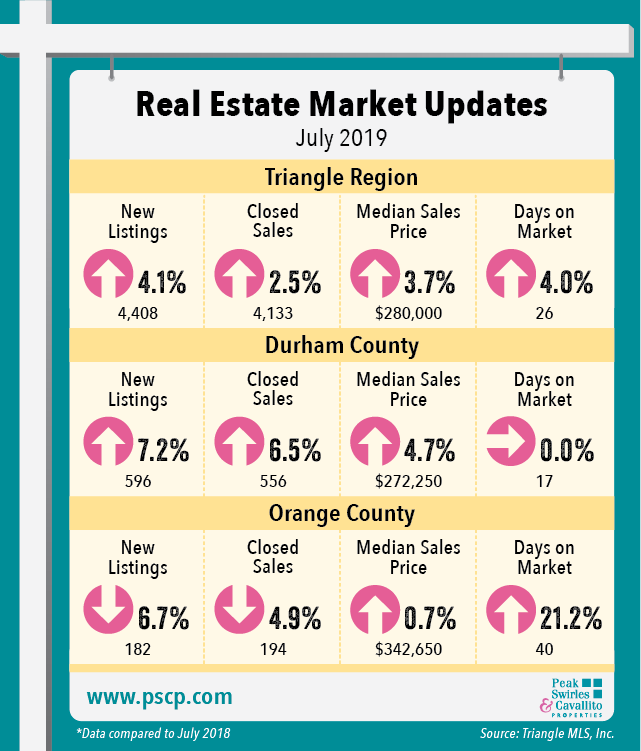 During the record-setting 121-month economic expansion, the unemployment rate has dropped from 10.0 percent in 2009 to 3.7 percent, yet many consumers continue to struggle financially. Low mortgage interest rates have helped offset low housing affordability, but high home prices are outpacing median household income growth. In a move to stoke continued economic prosperity, the Federal Reserve reduced the benchmark interest rate by a quarter point to about 2.25 percent, marking the first reduction in more than a decade.
Click on the links below for more detailed information about the Real Estate Markets in Durham, Orange & Chatham counties:
Durham County
Orange County
Chatham County
For information about how the local market affects your real estate needs, contact any of the real estate experts at Peak Swirles & Cavallito Properties.
*All data from Triangle Multiple Listing Service, Inc. ©2019