Local Market Update – June 2019
As was widely expected, the Federal Reserve did not change the target range for the federal funds rate – currently set at 2.25 to 2.5 percent – during their June meeting. Although the economy is still performing well due to factors such as low unemployment and solid retail sales, uncertainty remains regarding trade tensions, slowed manufacturing and meek business investments.
New Listings in the Triangle region decreased 2.9 percent to 4,481. Under Contract Sales were up 8.6 percent to 4,227. Inventory levels fell 8.0 percent to 8,313 units.
Prices continued to gain traction. The Median Sales Price increased 3.1 percent to $283,530. Days on Market remained flat at 25 days. Sellers were encouraged as Months Supply of Inventory was down 7.4 percent to 2.5 months.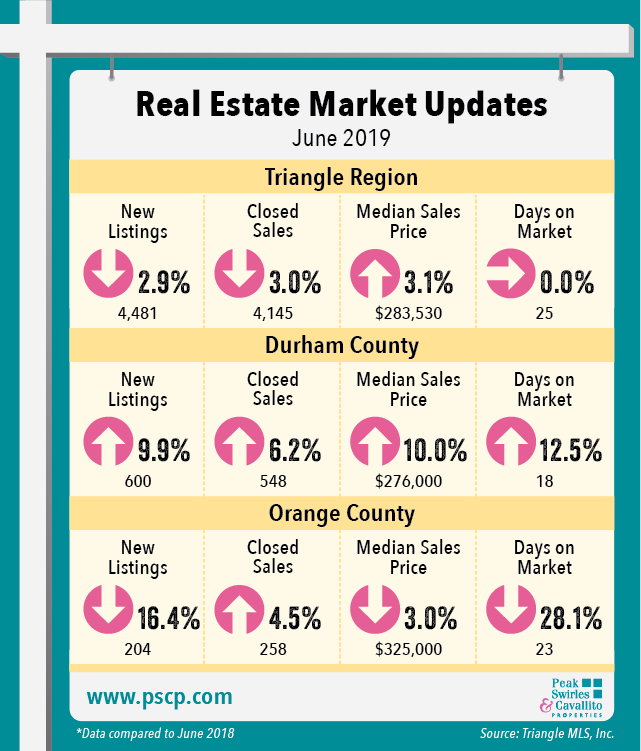 In terms of relative balance between buyer and seller interests, residential real estate markets across the country are performing well within an economic expansion that will become the longest in U.S. history in July. However, there are signs of a slowing economy. The Federal Reserve considers 2.0 percent a healthy inflation rate, but the U.S. is expected to remain below that this year. The Fed has received pressure from the White House to cut rates in order to spur further economic activity, and the possibility of a rate reduction in 2019 is definitely in play following a string of increases over the last several years.
Click on the links below for more detailed information about the Real Estate Markets in Durham, Orange & Chatham counties:
Durham County
Orange County
Chatham County
For information about how the local market affects your real estate needs, contact any of the real estate experts at Peak Swirles & Cavallito Properties.
*All data from Triangle Multiple Listing Service, Inc. ©2019