Local Market Update – April 2019
For much of the country, the first quarter of 2019 provided several disruptive weather patterns that contributed to less foot traffic toward potential home sales. Coupled with low affordability, higher prices and an inventory situation in its infancy of recovering from record lows – not to mention several more days of wintry weather in April – slower sales persisted across most residential real estate markets. However, buyers are beginning to return in force this spring. For well-priced homes in desirable locations, competition is fierce.
New Listings in the Triangle region decreased 0.5 percent to 4,839. Under Contract Sales were up 5.2 percent to 4,314. Inventory levels fell 5.1 percent to 7,899 units.
Prices continued to gain traction. The Median Sales Price increased 5.7 percent to $280,000. Days on Market was up 6.9 percent to 31 days. Sellers were encouraged as Months Supply of Inventory was down 8.0 percent to 2.3 months.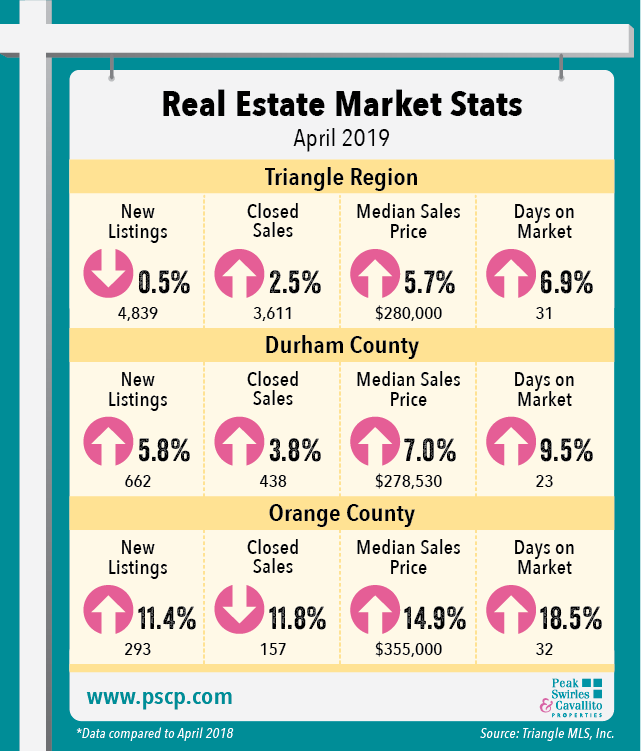 The national unemployment rate dropped to 3.6 percent during April 2019, the lowest level since 1969. A historically low unemployment rate can provide reassurance to wary consumers. But in order for sales to increase on a grand scale, buyers will need more spending power, or sellers will need to reduce prices to land where buyers are most active. Neither situation is likely to occur in 2019, yet inventory is straining to keep pace in the most competitive price ranges.
Click on the links below for more detailed information about the Real Estate Markets in Durham, Orange & Chatham counties:
Durham County
Orange County
Chatham County
For information about how the local market affects your real estate needs, contact any of the real estate experts at Peak Swirles & Cavallito Properties.
*All data from Triangle Multiple Listing Service, Inc. ©2019