Strong Market for Sellers; Steady Interest Rates Good for Buyers
In addition to the quandary of ongoing housing price increases and affordability concerns in many U.S. markets, the first quarter of 2019 saw a fair share of adverse weather as well. Sales totals were mixed across the nation and sometimes dependent on what was a persistent wintry mix, especially in the Great Plains, Midwest and Northeast. Meanwhile, new listings and total homes for sale have been trending lower in year-over-year comparisons in many areas, and last year's marks were already quite low.
New Listings in the Triangle region decreased 4.6 percent to 4,731. Under Contract Sales were up 9.4 percent to 4,348. Inventory levels fell 5.3 percent to 7,595 units.
Prices continued to gain traction. The Median Sales Price increased 1.8 percent to $269,900. Days on Market remained flat at 37 days. Sellers were encouraged as Months Supply of Inventory was down 4.2 percent to 2.3 months.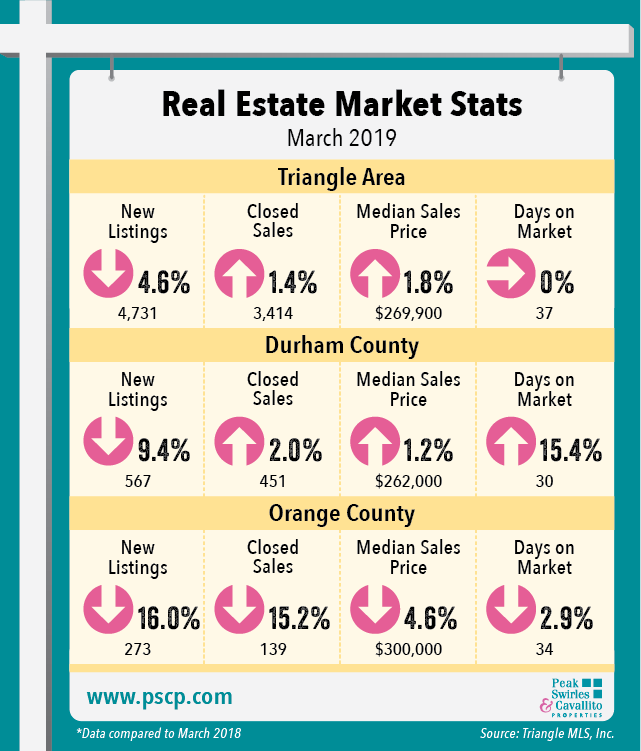 The Federal Reserve recently announced that no further interest rate hikes are planned for 2019. Given the fact that the federal funds rate has increased nine times over the past three years, this was welcome news for U.S. consumers, which carry an approximate average of $6,000 in revolving credit card debt per household. Fed actions also tend to affect mortgage rates, so the pause in rate hikes was also welcome news to the residential real estate industry.
Click on the links below for more detailed information about the Real Estate Markets in Durham, Orange & Chatham counties:
Durham County
Orange County
Chatham County
For information about how the local market affects your real estate needs, contact any of the real estate experts at Peak Swirles & Cavallito Properties.
*All data from Triangle Multiple Listing Service, Inc. ©2019